Motherboard Coasters is an idea which involves using old motherboard circuitry to create drink coasters. Sizing in at around 4 inches (10 centimeters), these coasters are perfectly functionable and easy to create. As a warning, please do not use any motherboard circuitry that is currently in use; please try to keep it at unused old computers only!
Re-usable item that is created from re-used materials.
Functional and unusual.
Easy to make (scissors and a motherboard are the only requirements)
Allows utilisation of outdated or redundant technology.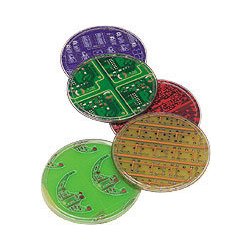 Ad blocker interference detected!
Wikia is a free-to-use site that makes money from advertising. We have a modified experience for viewers using ad blockers

Wikia is not accessible if you've made further modifications. Remove the custom ad blocker rule(s) and the page will load as expected.